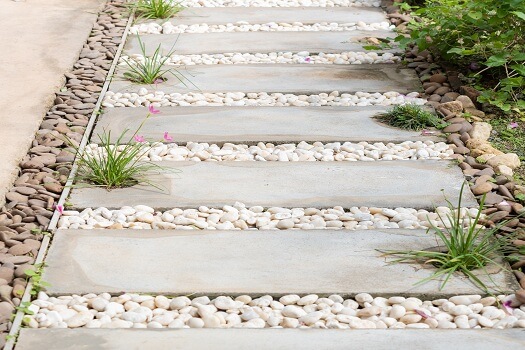 Decorative rocks are often used as ground cover in areas where you might not want grass or can't get it to grow. You can also transform outdoor spaces in different ways by using snow white rocks that create a gorgeous contrast with the other elements in your landscape. With
white pebble rock, landscaping
can be a uniquely creative undertaking. When you've got space to fill, consider these creative ideas for using snow white pebbles to make your yard stand out among the others in your neighborhood.
Create an Oversized Checkerboard
There's nothing better than setting up an outdoor game to keep everyone entertained. You can make an oversized checkerboard by filling a grid with alternating squares of black and white pebbles. Then add some big checkers and watch as everyone has fun playing with your outdoor game. This idea works just as well for residential homes as well as commercial businesses where you want people to linger.
Monogram the Driveway or Front Yard
You can arrange white pebbles in any type of design you want. Flowers, diamonds, and stars are a few popular designs, but you can make an even bigger impact with a monogram. If you're using beach pebbles in your driveway, consider placing white ones in the middle of other colors to create your family's initial. Or you can do a similar thing in the front lawn if you're planning a xeriscaping design.
Add Dimension to a Zen Garden
A Zen garden can provide the ultimate area in your yard to show off your creativity. Most of these gardens have sand or small beach pebbles people can rake or sit nearby as they meditate. Snow white pebbles add an element of peacefulness to these areas that makes people want to sit down near the beautifully landscaped area and relax.
Set Up a Defined Seating Area
Pouring concrete might not be preferable if you aren't looking for a permanent way to create a seating area. Beach pebbles are easier to change as time goes by, and you'll likely find they offer the perfect middle ground between grass and a poured patio. White pebbles can be set up in a grid that defines where several tables may go, or you can use the beach pebbles to completely fill in the space beneath the seating area. Either way, it will stand out against the grassy areas while inviting people to sit down and stay awhile.
Make a Multitextured Walkway
If you've looked at pavers lining a walkway and felt they needed something, that thing you're looking for is likely to be white pebbles. The light color creates contrast when they're placed against darker paving stones, and they can widen a pathway that gets frequent traffic. If the walkway leads to the entrance of your home, you'll also love how the beach pebbles pick up dirt so less gets tracked inside.
No matter what type of landscaping project you're planning, consider using decorative rocks, stones, or beach pebbles to add depth, character, and beauty to it. When you're ready to get started on your landscaping plan, reach out to the experts at RS&P Rock Stones & Pebbles, a premier provider of snow white beach pebbles, black polished pebbles, and a wide variety of decorative stones. To learn how we can help you create the landscape of your dreams, call us today at (866) 380-0580.