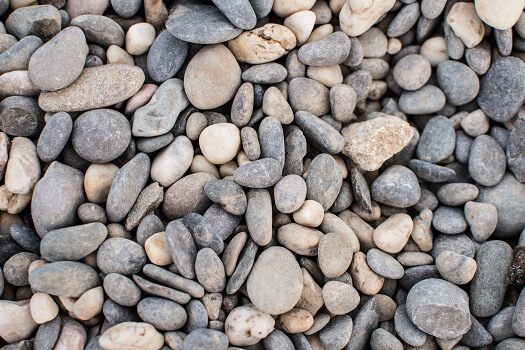 Decorative rocks, by nature, are meant to add eye-catching visual elements to outdoor spaces. This is a goal that can be easily achieved with beach pebbles, mixed or pure gold pebbles,
white pebbles
, green jade pebbles, and other popular decorative rock selections. But there are also functional and practical purposes attractive decorative rocks can serve, one of which is keeping water away from your foundation.
Know the Importance of Keeping Water Away from Your Foundation
Water naturally gravitates toward areas where there's some degree of drop in elevation. Water from rain or melting snow can also pool around your home's foundation. In some instances, the placement of your gutters and downspouts can send excess runoff toward your foundation. Regardless of why it happens, water near your foundation has the potential to contribute to:
• Structural issues with your foundation
• Water seepage affecting lower basement windows
• Mold and mildew problems
Understand How Decorative Rocks Can Help
The placement and setup of decorative rocks can keep water away from your foundation in certain areas. If beach pebbles and other decorative rocks are strategically stacked with the higher point directly against your home, you'll be creating resistance that steers water away. Decorative rocks such as polished black river rock can also be put between or around bushes and shrubs close to your home where water tends to gather to minimize pooling.
Pick the Locations Where You Have Water Issues
Start the process of using decorative rocks to keep water away from your foundation by identifying specific spots where water naturally gathers close to your home. You can do this by taking a walk around your home after a steady rainfall. Another option is to spray water with a hose against your home's foundation. After you do this, make note of any places where pooled water remains.
Pretty Much Any Type of Decorative Rocks Can Work
You're free to choose the decorative rocks that appeal to you as you get ready to place them in various areas around your foundation. As mentioned above, it's the setup and arrangement that really matters most when using beach pebbles and similar decorative accessories for this purpose. It's also helpful to stick to decorative rocks and beach pebbles that can be arranged fairly easily.
Clear Out & Prepare the Area
Once you've selected your preferred decorative rocks, clear away any debris from where you wish to place them near your foundation. Also, prepare the area by adding some soil if there are natural slants directly leading toward your foundation. Ideally, the soil-covered areas close to your home should be flat and even. Additionally, make sure the soil isn't packed too tightly so water can be absorbed.
Use Permeable Landscaping Fabric
After the soil has been prepared, put landscaping fabric down where the decorative rocks and beach pebbles will be placed. Use fabric that's designed to allow water and air to pass through. This type of fabric also allows decorative rocks to be placed directly around bushes and shrubs without affecting access to water and nutrients.
Strategically Place Your Preferred Decorative Rocks
Put your preferred decorative rocks down over the landscaping fabric so they're tightly clustered. Smaller beach pebbles work well for this purpose, since they're decorative but still small enough to be easily stacked and layered. What this does is give water fewer spots to gather. Any water that does fall on the decorative rocks and beach pebbles will drain down through the fabric and soil.
No matter what kind of landscaping project you're planning, decorative rocks, stones, and pebbles can add practical value as well as depth, character, and beauty to your creation. Whether you're looking for the finest Mexican beach pebble or an assortment of river rock, reach out to the experts at RS&P Rock Stones & Pebbles, a premier decorative rock and supply superstore. To learn how we can help you create the landscape of your dreams, call us today at (866) 380-0580.