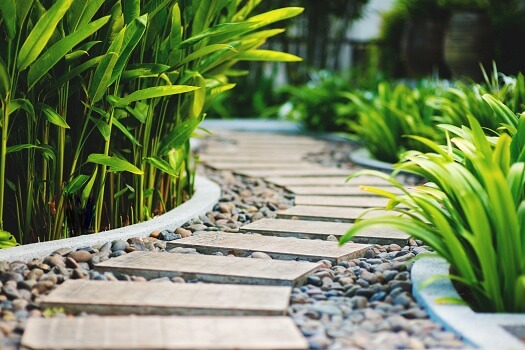 The options you have for creating the perfect landscaping plan often seem limitless. On top of the usual grass and plants, you'll also run into a variety of decorative rocks you can use to add interest to your lawn. With river rock, such as
white pebble rock, landscaping
can be a truly creative endeavor. Using river rock in your landscaping offers these advantages for transforming your outdoor space.
1. Reduce Your Water Usage
Water conservation is a priority in the majority of states today, and many communities have issued restrictions that outline when and how long you can water your lawn. While thick green grass once ruled landscaping designs, this has now become a thing of the past in many areas. Using river rock to replace all or a portion of the grass helps you cut down on how much water you use during the height of the summer.
2. Minimize Mowing
Mowing is hard work, and many people don't have the time to do it themselves. You may also prefer not to mow if you have a large amount of ground to cover or your landscape has steep hills or rough terrain. Since you don't have to mow river rocks, you can simply enjoy the beauty of your landscape without having to invest hours of time keeping it up. The same benefit also extends to being able to avoid having to weed and edge as often. Making sure to put the decorative rocks down correctly can minimize weeds while ensuring the rocks stay in place.
3. Improve Drainage
Soggy patches of grass and mud ruin the look and feel of your property. River rocks improve drainage in two ways. First, you can use them to direct water toward an area where you want it to go, such as to a nearby drain. Second, the river rocks allow the water to seep into different areas of the ground while giving people a hard surface to walk on so the dirt doesn't get compacted.
4. Enjoy a Long-Lasting Ground Cover
Decorative rocks have a virtually endless life span. Unlike grass, which often dies or needs replacing, you'll find river rocks retain their beauty for many years with minimal maintenance. High-quality river rocks will withstand all types of weather conditions, and they won't wash away like soil. In fact, you can even use river rocks to prevent soil erosion in areas where that's a common problem.
5. Create a Custom Look
You may already be thinking about how you can use decorative rocks in your landscaping. The possibilities for creating a customized landscaping design are virtually limitless. You can use different colors of river rocks, such as black polished pebbles, to create defined areas in your landscape, or you can set them against plants to generate contrast. Many commercial and residential property owners use a variety of different colors and shapes of decorative rocks to create interesting effects you can't achieve with other landscaping materials.
No matter what type of landscaping project you're planning, consider using decorative rocks, stones, or beach pebbles to add depth, character, and beauty to it. When you're ready to get started on your landscaping plan, reach out to the experts at RS&P Rock Stones & Pebbles, a premier provider of polished black river rock, snow white pebbles, and a wide variety of decorative stones. To learn how we can help you create the landscape of your dreams, call us today at (866) 380-0580.