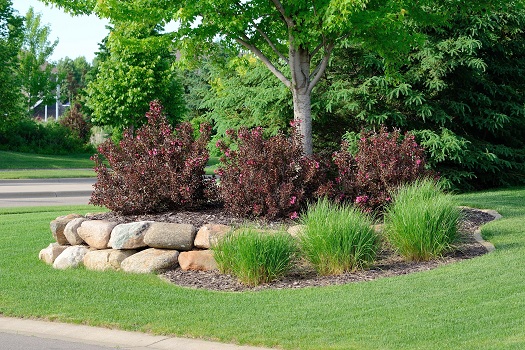 When it comes to choosing which materials to use for landscaping projects, the seemingly endless list of choices can be overwhelming for both new and long-time homeowners. If you're trying to decide whether to use mulch or decorative rocks for your yard, consider the following reasons decorative rocks are the far superior choice. 
1. Require Less Maintenance
Unlike mulch, decorative rocks such as Mexican beach pebble won't degrade with time, and if your river rocks get covered with dirt, leaves, or grass clippings, all it takes to clean them is a quick and easy pass with a leaf blower. And although mulch is relatively easy to use, you'll have to replace it at least once a year, which costs both time and money.
2. Provide Durability
With time, mulch compacts and ultimately degrades. This means you'll have to buy more mulch and apply it all over again. In addition, when mulch compacts, it pushes down the dirt beneath it, which can create a negative grade and lead to water buildup around your home's foundation. Combined with mulch's tendency to retain moisture, this can result in serious issues if you don't spot it in time. 
By contrast, decorative rocks are much more durable, so they last a lot longer than mulch. Mulch washes away over time, but decorative rocks will stay put until you remove them. When you use decorative rocks for your landscaping project—whether it's in your flower beds, around trees, or as edging material—you just install them, and you're done. Your decorative rocks will last for a decade or longer.
3. Add Beauty
Decorative rocks are available in a huge variety of sizes, types, textures, and colors, so your ability to create a unique landscape is limited only by your imagination. You can experiment with different colors to create your own distinctive magical design, and the versatile character of decorative rocks makes them the perfect complement for any architectural style, from contemporary to traditional. For example, if you're interested in creating a landscape with a stylish, modern appearance, gleaming white and striking polished black pebbles are ideal choices.
4, Save Water & Money
If conserving water is at the top of your list of concerns, decorative rocks are a much better option. Compared to mulch, they're much more effective at reducing water loss, which in turn will help your plants absorb the nutrients they need.
In addition, decorative rocks are a much more cost-effective long-term choice than mulch. Although they can cost more initially to install, you won't have to replace them on a regular basis, so decorative rocks can save you quite a bit of money over time.
No matter what type of landscaping project you're planning, leave the mulch behind and use decorative rocks, stones, or beach pebbles to save money and add immense depth, character, and beauty to it. When you're ready to get started on your landscaping plan, reach out to the experts at RS&P Rock Stones & Pebbles, a premier provider of river rock, beach pebbles, and a wide variety of decorative stones. To learn how we can help you create the landscape of your dreams, call us today at (866) 380-0580.