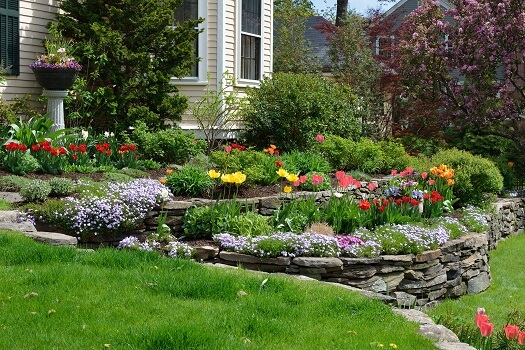 Size and shape aren't the only things to consider with landscaping stones. Color is just as important when it comes to this particular exterior feature. Plus, you'll be saving yourself time and money if you give some thought to color preferences with stones before any decisions are made. Here are some tips to consider as you choose colors for stones you'll use for landscaping.
Use a Color Wheel for Inspiration
A color wheel is a simple tool that can give you a better idea of what hues to consider for exterior stones. You'll be limited to three primary colors with a standard color wheel: yellow, blue, and red. However, narrowing your color selections can give you a clean, cohesive look and make the decision-making process easier.
Consider Complementary Colors
You don't have to limit yourself to a single color for your landscaping stones. For instance, a path can stand out more with a checkerboard pattern that's a mix of red and black stones. Tan and black stones as well as Mexican beach pebble are also worth considering if you want a more traditional and understated blend of colors.
Stay Neutral
Beige, taupe, ivory, black, gray, and various shades of white are the standard neutral colors. Opting for colors within this category for your landscaping stones is worth considering if you want more flexibility with other exterior elements. Plus, you won't have to change your stones if you opt to go with other colors in your landscape design.
Consider Your Home's Exterior Design
Another way to approach color selection with landscaping stones is to consider your home's exterior design. If you prefer a more cohesive look, stones that match your main outside colors can create visual harmony. Or you might go with the era during which your home was built to choose colors that fit in with your home's design and time period.
Complement Your Garden Palette
With this approach to choosing landscaping stones, you can use specific areas of your garden as your guide. With rosebushes, you might fill out this area with traditional white or beige stones behind a brick border. You can also mix and match your stones so they align with the colors in your perennials, annuals, bushes, shrubs, or flowering or fruit-bearing trees.
Stand Out (in a Good Way) and Mix It Up
While neutral is a reliable option with colors for landscaping stones, you can always go with something that displays your personality. For example, you might make your exterior spaces stand out with a mix of stones with vibrant visual appeal, such as pure gold river rock, or even a random mix of varying shades of similar hues.
Let the Type of Stone Guide You
One other way to go about choosing the color for your landscaping stones is to go by the color(s) associated with a particular type of stone. For instance, if you prefer earthy, natural, and polished hues, consider river rocks. 
No matter what type of landscaping project you're planning, you can enhance its character and beauty with various colors of stones. For expert advice on designing your landscape with rocks and pebbles, reach out to the experts at RS&P Rocks Stones & Pebbles, a premier landscape rock and supply superstore. We specialize in drought-tolerant landscaping materials, including a variety of colored pebbles and river rock. To learn how we can help you create the landscape of your dreams, call us today at (866) 380-0580.