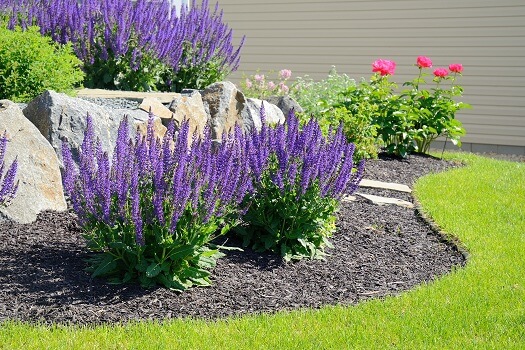 Switching from grass to landscaping rocks provides you with the benefit of being free from having to worry about so much mowing. You may also want to get rid of grass in certain parts of your landscape to create space for a rock-filled walkway. Hardscaping with decorative rocks offers nearly limitless possibilities with sizes, shapes, colors, and textures, from Mexican beach pebble to
polished black river rock
. Replacing grass with decorative rocks isn't a difficult process, but it does require taking a series of steps to make sure you get the look you desire.
Eliminate the Grass
If the area is currently filled with healthy grass, you'll either need to shovel it out or kill it first. Most people find allowing the grass to die out makes it easier to clear the area. You can do this by placing plastic over the grassy areas and allowing it to sit for a couple of weeks. This stops the sunlight from reaching the grass for a natural die-off that doesn't use chemicals.
Remove Debris from the Soil
Once you eliminate the grass, you'll be ready to start checking the ground surface for debris you don't want in your decorative rock bed or walkway. For instance, there might be a large piece of rock that doesn't match the ones you're adding to the landscape. You can use a rake to gently turn the soil and reveal debris that's sitting just below the surface.
Put Down Landscaping Fabric
Landscaping fabric serves several important purposes. The primary purpose is to allow water to drain through to the soil while blocking out weeds that will mar the appearance of your decorative rock garden. Landscaping fabric can also help with keeping the decorative rocks in place. Most types of fabric are simply placed on top of prepared soil. If you plan to include any plants in the design, make sure to cut holes out in these areas so you can put them straight into the dirt.
Place the Edging
You have your choice of edging materials for your project. Wood, vinyl, white pebbles, and even larger river rocks are all potential options for creating a defined edge to the decorative rock garden. Pavers and decorative rocks can go right on top of the landscaping fabric. However, wood, vinyl, or metal planks might require you to take a few extra steps to make sure they're properly secured to the ground.
Fill in the Area with Decorative Rocks
Now that you've prepped the area, you're ready to begin the fun part. By now, you'll likely have already measured the space and ordered the appropriate amount of river rocks. Depending on the size of the decorative rock garden, you might have the beach pebbles poured directly into the space. Or you can use a bucket or wheelbarrow to put the river rocks down yourself. With any method you choose, you'll want to remember the decorative rocks will stay where you put them. Take your time to create the perfect decorative rock garden space so you'll be able to enjoy it for years.
No matter what size or type of lawn you have, you can enhance its character and beauty with a variety of stones. For advice on designing your landscape with decorative rocks and beach pebbles, reach out to the experts at RS&P Rocks Stones & Pebbles, a premier landscape rock and supply superstore. We specialize in drought-tolerant landscaping materials, including a variety of colored pebbles and river rock. To learn how we can help you enhance the look of your lawn, call us today at (866) 380-0580.