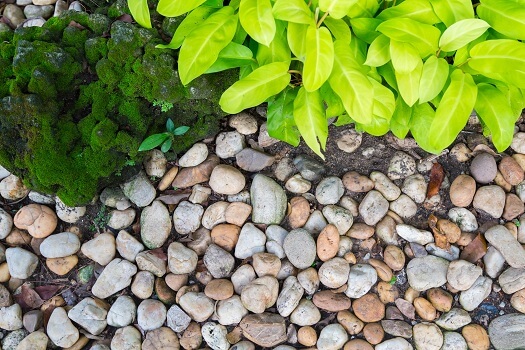 The right landscaping rocks can complement almost any yard, and they often require very little maintenance. That being said, there may come a time when landscaping rocks become dull and unattractive. If that sounds like your situation, you're probably wondering what steps you can take to give them a wet and clean appearance. Here's a quick look at some tools and products that will make your landscaping rocks, whether they're
white pebbles
or large black river rocks, shiny once again and potentially even protect them from the elements.
Choose a Product to Use
The first thing you should do is pick a high-quality sealant. There are many different sealants on the market, and you'll need to consider a handful of variables before you decide on a product. As a general rule, a nontoxic exterior sealant is going to be the best option for landscaping stones such as polished black river rock. Before you seal all the stones on your property, you should try out various products on a few sample stones.
Prep the Rocks
It might seem unusual to clean decorative rocks that are sitting outside all day, but this step is going to be very important if you want to avoid hazy or uneven results. For any larger river rocks that are on your property, you can simply rinse them down with water and then use a scrub brush with stiff bristles to remove lingering debris. Cleaning smaller decorative rocks by hand is a tedious job, and a power washer will probably be the best option for this task. For particularly dirty decorative rocks, you might need to use sandpaper with a very high grit.
Get the Area Ready
Before you tackle this project, you need to make sure the area is prepped and you're working on the right day. It will be very difficult to clean and seal the decorative rocks if it's rainy, windy, extremely hot, or very cold. As a general rule, you should only seal your decorative rocks when the weather is moderate with no chance of rain or high winds. To minimize your risk of getting dust and pollen on the decorative rocks after they've been cleaned and sealed, you might want to spray down the rest of your yard with a garden hose.
Apply the Sealant
The final step in this process is applying the sealant you've chosen, and that should be done with a high-quality sprayer that's powered by pump action or a generator. Moving at a consistent speed and spraying from a consistent distance is the best way to get a good finish. After you've applied the first layer, you should let the product sit for at least one day before pouring a little water on a test rock. If the water beads up and the decorative rock continues to look wet, you won't need to apply additional coats. 
No matter what kind of landscaping project you're planning, decorative rocks, stones, and pebbles can add practical value as well as depth, character, and beauty to your creation. Whether you're looking for the finest Mexican beach pebble or an assortment of river rock, reach out to the experts at RS&P Rock Stones & Pebbles, a premier decorative rock and supply superstore. To learn how we can help you create the landscape of your dreams, call us today at (866) 380-0580.