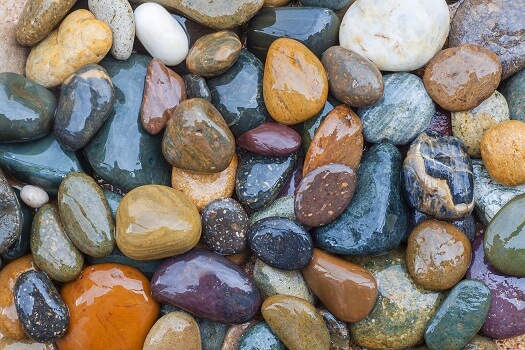 River rocks are a beautiful addition to your landscape that can stand alone as a decorative element or be used as an accent along walkways and water features. You can find river rock in many different colors, including
white pebbles
, that add contrast and beauty wherever you place them. They're also among the most durable landscaping materials, and they'll last for many years without requiring major maintenance. The one concern you may run into over the years is the river rocks becoming dull over time. This issue is usually temporary and easy to correct using these methods.
Rinse Off Surface Debris
River rocks are outside 24 hours a day. This exposes them to dust, mud, decaying leaves, and moss buildup. For the ultimate shine, the sunlight needs to be able to reach the surface of the decorative rocks so it can reflect back the colors. Much of the time, you'll notice a good rainstorm is all it takes to wash away surface debris, but you might have to give nature a little help sometimes. If buildup is happening, you can use a water hose with a sprayer to wash away the dust and dirt that makes the river rocks look dull.
Give Them a Scrub
Occasionally, the decorative rocks might accumulate more dirt than a sprayer can remove. This is often the case if the river rocks have been in place for a long time or you've been doing some work on the lawn. When this happens, you can use a mixture of gentle soap and water to spray the decorative rocks down. This loosens hardened dirt. Then you can use a stiff-bristled brush or broom to scrub the decorative rocks. In most cases, this will be all it takes to get the tougher grime off the surface of the river rocks. Then all you have to do is spray it down to rinse off the soapy water.
Use River Rock in Wet Areas
Certain types of river rock, such as polished black river rock, look better when they're wet. This is because the water creates a smoother surface that allows the sunlight to hit it just right. When you choose river rocks, make sure to ask about how water affects the color. Knowing the decorative rocks will practically glow in the water can help you make your decision regarding the type and color. For instance, you might prefer a river rock that brightens up in the water if you're using it as an accent in a pond or fountain.
Apply a High-Gloss Sealer
If you plan to put the decorative rocks in a dry area, don't worry. You still have the ability to give them that shiny wet look. Special sealants are available that you can apply to the surface once it's clean. With a high-gloss sealer, the tiny pores of the river rocks are filled in so the surface is smoother. You'll also find dirt washes away more easily after you apply a sealant.
No matter what type of landscaping project you're planning, decorative rocks, stones, or beach pebbles can add immense depth, character, and beauty to it. When you're ready to get started on your landscaping plan, reach out to the experts at RS&P Rock Stones & Pebbles, a premier provider of river rock, beach pebbles, and a wide variety of decorative stones. To learn how we can help you create the landscape of your dreams, call us today at (866) 380-0580.