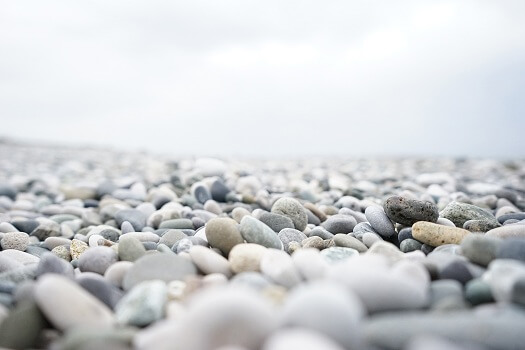 Beach pebbles can be a beautiful addition to your residential or commercial landscape. As is the case with decorative rocks and stones, there are many possibilities when it comes to landscaping with beach pebbles, and one of the most versatile and appealing options is
snow white pebbles
. If you're not sure how these small bright stones could fit into your landscape plans, we go over some of the reasons you should consider them below.
They're Excellent for Shady Spots
Snow white pebbles present a bright, sophisticated finish that makes them highly reflective of natural light from the sun and moon. Because of the ability of these beach pebbles to reflect the light better, they can be used to brighten up shady spots that might include:

• Spots sheltered by high trees
• Areas partially blocked by structures
• Locations where it's not practical to install artificial lighting
No Rough Edges
Snow white pebbles are created by tumbling white marble stones. The tumbling action produces a clean, smooth finish, so there are no rough edges. With white pebble rock, landscaping can be appealing if you're looking for stones that blend together well. The lack of rough edges also makes it easier to handle the beach pebbles if they need to be moved or rearranged.
Showcasing Plants & Other Living Landscape Elements
The bright appearance of snow white pebbles means that whatever they're placed around will stand out even more. This is a look you may want to create if you have some smaller trees, bushes, shrubs, annuals, or perennials you want to showcase. Other natural elements, such as sand, can also be thrown into the landscape design mix, especially if you want to create a beach-like feel.
Easy Care & Maintenance
Another benefit of creating snow white pebbles from white marble stones is the durability of the finished product. Thanks to this added durability, these beach pebbles are easy to care for and maintain. Typically, all you'll need to do is rinse them off with a garden hose if they need a quick cleaning.
Efficient Drainage
The smoothness of snow white pebbles allows water to roll right off these landscape accessories. Consequently, it can be easier to maintain sufficient drainage in areas where you choose to place these beach pebbles.
Convenient Coverage & Placement Options
The size of snow white pebbles makes it easy to put them where you want them to go without a lot of effort. Of course, this doesn't mean you can't mix and match these beach pebbles with larger stones or decorative rocks, but working with these beach pebbles is generally not all that difficult.
Multiple Possibilities with Complementary Stones
The pristine appearance of snow white pebbles allows for nearly limitless possibilities with complementary stones. For instance, these small stones allow for a landscape design that could also include:

• Polished black beach pebbles or decorative river rock to create dramatic contrast
• Mexican beach pebbles that have an off-white hue peppered with attractive imperfections
• Mixed gold pebbles to create borders or set certain parts of your landscape apart
No matter what type of landscaping project you're planning, consider using decorative rocks, stones, or beach pebbles to give it added charm and beauty. When you're ready to get started on your landscaping plan, reach out to the experts at RS&P Rock Stones & Pebbles, a premier provider of river rock, Mexican beach pebble, and a wide variety of decorative stones. To learn how we can help you create the landscape of your dreams, call us today at (866) 380-0580.