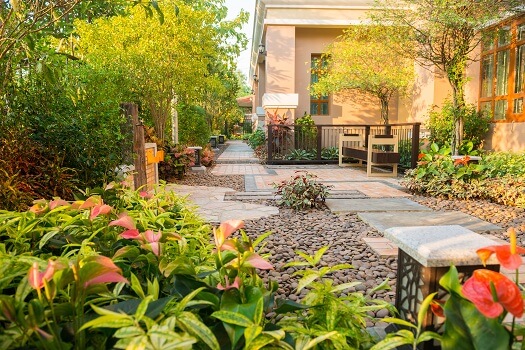 Landscaping stones and decorative rocks are one of the most effective ways to add character and style to your outside spaces. This particular hardscaping feature is often appreciated because of the nearly limitless possibilities with sizes, shapes, colors, and textures, from
Mexican beach pebble
to
polished black river rock
. Regardless of how you opt to use landscaping stones in your yard, there are some things to keep in mind about installation. Here are five tips to help you out.
1. Work Out Your Plans with Placement First
The very first step to take as you move forward with installation is to know with a fair degree of certainty where you wish to place your preferred landscape rock. You can always make smaller adjustments here and there later on, but the installation process will be much smoother if you've already made your major decisions about placement and your preferred design, such as one that creates drama with a mixture of black and white pebbles.
2. Dig & Measure So You'll Know How Many Stones You'll Need
Once you know where your stones will go, you'll need to take careful measurements. It can be helpful to do the initial digging in the intended location before you measure. Taking care of this step first allows you to accurately measure width, length, and depth so you can use the right number of stones.

As for digging a designated secure spot for your landscaping stones, complete this process by:

• Using an edger or similar tool to outline the area where the stones will go
• Using a garden shovel to dig out the turf within your outline
• Going to a depth that will allow your stones to remain securely in place
3. Make the Soil beneath the Stones Firm
Before you put your landscaping stones into place, tamp down the soil the stones will be resting on. What this does is create a firm base for the stones, especially if some of them will be on the heavy side. A firm base also reduces the risk of excessive settling.
4. Create a Weed Barrier
It can be inconvenient or impractical to remove weeds once everything is in place. Avoid this potential hassle by creating a solid weed barrier along the entire surface area where your stones will go. This can be done with newspaper or landscaping fabric. The fabric can be a more effective long-term solution if you use durable material, which can be beneficial if your stones are heavier.
5. Place Your Stones & Add Your Finishing Touches
Now you're ready to put your landscaping stones into the desired position and location. You're free to use any placement you prefer, but it's not advisable to stack the stones. If you're using small landscaping stones, such as black polished pebbles, you may be able to layer them to some extent. Otherwise, it's best to avoid stacking larger or mid-size stones so they don't fall out of place.

Wrap up the installation process by adding your preferred finishing touches. The icing on your landscaping cake might include:

• Colorful flowers or decorative plants
• Water features
• Smaller border stones in certain areas
• Outdoor lighting
With minimal effort, you can add enormous character and beauty to your yard with decorative rocks, stones, and beach pebbles. If you need help designing your yard's landscape with beautiful stones, call on the experts at RS&P Rock Stones & Pebbles, your premier choice when you're looking for landscape rock, beach pebbles, and stones to create the perfect look in your yard. To learn how we can help you design the yard of your dreams, call us today at (866) 380-0580.