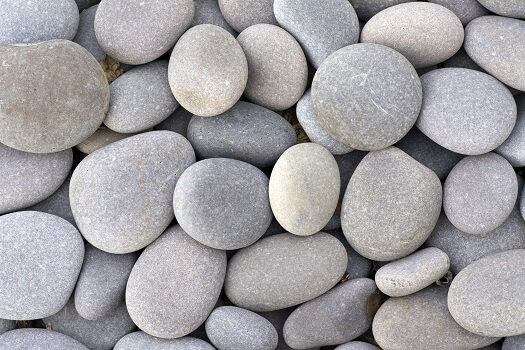 A striking and effective way to complete a landscape makeover or add pizzazz to what you already have is to use river rocks. As for whether or not to put them around your house, the answer depends on how creative you get and how much the benefits associated with them appeal to you. We put the spotlight on river rocks below so you can decide if you prefer to put them around your house.
What River Rocks Are
River rocks are decorative landscaping rocks naturally smoothed, rounded, or given a natural polish by moving water. These decorative rocks are highly versatile and can include ones found in riverbeds, streams, and even along beaches. They come in varying sizes, shapes, and colors, such as white pebbles, although they usually measure about 1–2 inches in diameter.
Ways to Use Them around Your House
The best way to determine if you should put river rocks around your house is to get a better understanding of how you may be able to use them. One possibility is to put river rocks around what already surrounds your home. Depending on the type of river rocks you use, this small change could have a very noticeable impact. For instance, decorative river rocks have an exotic and mysterious look that makes them a welcome addition to areas around flowers, bushes, shrubs, and trees. Some other options with river rocks around your house include:

• Making your pathways/walkways stand out – The amazing variety with river rocks gives you plenty of options with what can be added along any pathways or walkways leading up to your home.
• Boosting the color palette around your house – River rocks can be easily mixed with your other landscape stones and decorative rocks because of how many options there are with styles and colors.
• Creating a natural staircase – If you have slight hills around your home, river rocks can be used to create natural staircases. You may need to use wood framing for added stability and support.
• Making decorative rock pathways – Aside from looking great, river rocks are extremely durable. This means they can be used to create decorative rock pathways to a backyard patio or deck where nothing currently exists but grass.
• Creating new focal points – If you get creative and mix darker-hued river rock such as polished black river rock with lighter river rocks, you can create attractive new visual focal points around your house.
• Making decorative rock gardens – River rocks are ideal for decorative rock gardens, which can be set up in areas around your house where living landscape elements don't work because of a lack of sunlight or other conditions.
Benefits of River Rocks
River rocks deter weeds, for one thing. If they're properly put into place along walkways, outdoor stairs, or in flowerbeds, there will be less room for unwanted weeds to grow. River rocks are also worth considering for use around your house for the following reasons:

• They require very little maintenance
• It's easy to replace river rocks with other ones if you change your landscape design
• River rocks are practically impervious to significant damage, especially from exposure to the elements or sun
No matter what type of home you have, you can enhance its character and beauty with a variety of river rock. For advice on designing your home's landscape with river rocks and beach pebbles, reach out to the experts at RS&P Rocks Stones & Pebbles, a premier landscape rock and supply superstore. We specialize in drought-tolerant landscaping materials, including a variety of colored beach pebbles and river rock. To learn how we can help you enhance the exterior of your home, call us today at (866) 380-0580.